My client asked me to redecorate her living room so she can relax, read and recharge. And she prefers a traditional interior style. Upon the first glance of her home, I immediately knew the problems.
Her house is beautiful. It has wood trims and exposed brick walls. But the entry is bland and missing a 'moment'. Living area missed a focal point. Coffee table/ottoman is dark grey, and doesn't match the warm tone of the house. Plus the table is too low to reach drinks comfortably. Her armchair, side table and sofa are traditional, but her pendent light is modern.
To solve all the problems and answer her brief, I sat down with her, went through a questionnaire to get a better understanding of what she likes. Then I drew a floor plan and provided her a 3D model. And from there, we went out shopping.
To echo the modern look of the pendant, we chose a Freedom console table which has the black metal element to it. Perfect. Also from Freedom, we found a black round mirror to be placed above the console table to create a focal point of the room. As you know mirrors are great to give an illusion of a larger space.
We knew we wanted a round coffee table to accommodate the layout of the room. There aren't many traditional round coffee table around, so when we saw this one from Early Settler, we both went 'yeah'.
Our big ticket items are done. We need to define our colour palette. Traditionally, a designer or a decorator would use fabric to draw inspirations for their colours. Nowadays, we tend to use artwork to do the trick.
We found this birch tree print form Crazy Roy Prints & Framing, and we both fell in love with. It has all the colours we wanted: black, white, burgundy red and mustard yellow.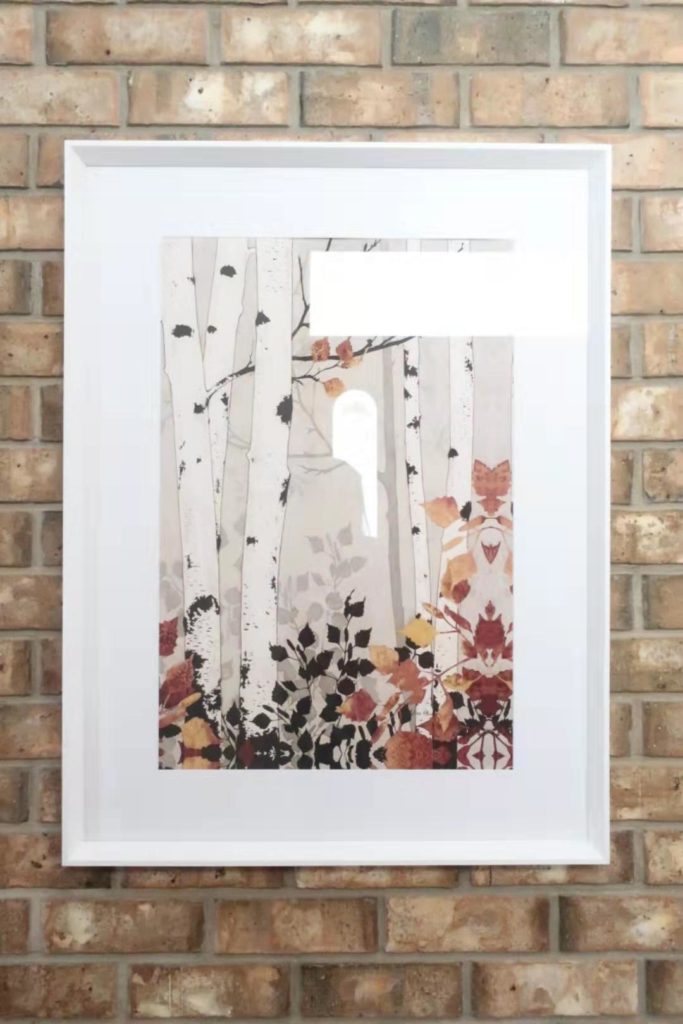 Once the colour palette is set, the accessory part just fell through.
The two vases on console table that we found from Savers. The yellow lamp is from Kmart.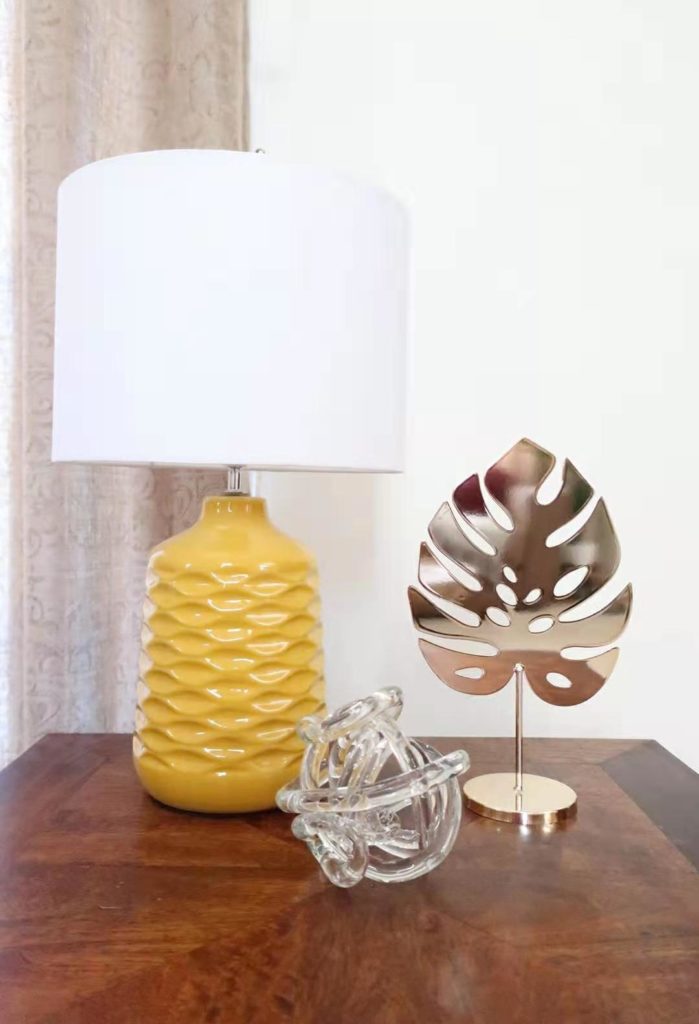 Now, we need to add some textures to the room. I love glass. To me, glass is like a jewel to a house. It reflects light and provides a bit of sparkle. Also, glass accessories add scales without adding visual weight. So we bought a glass knot, a glass candle holder and a glass vase to hold a Monstera plant.
Now the room feels light and airy. We have kept the room mostly natural with a dash of colours here and there to inspire. My client loves the new look of the room and I love it too.
Your takeaway from this project:
Entry wall wow moment: impress your guests the minute they wall in.
Focal point: great conversation starter and somewhere you can rest your eyes on.
Add plants to bring nature inside.
Create high and low, mix vertical and horizontal on any large surfaces.
If you have artworks or mirror hang above a console table or a sideboard, don't forget to make connections between the surface and the wall.
If you would like to know how to decorate a coffee table, please click here.